Kiga: After just about a year it's finally done! Aaaa I feel so proud, our baby is here for everyone to play TT V TT)
Ladi: I honestly never thought that I would be able to make a finished game like this and yet here I am today with this pastel monstrosity. What a world.
Kiga: Wow...so much excitement.....We hope you guys enjoy the game and thank ya to all the people that rooted for us while making it.

Ladi: It's not as long as we'd originally planned it to be, but we thought this would be a good way to branch out in to making games. We see this as more of a prequel/ first chapter to what could be a longer story (If we ever get the chance to continue it).

Kiga: There is one error in the game that we still can't figure out though, so help would be appreciated (I've put the image below this). Basically in the history window, some of the text blends together at random parts and we can't quite figure out why? If you have any solutions please contact us!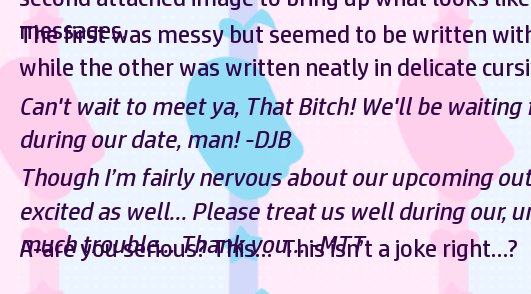 Files
NutandBolts(ButDon'tActually!)-pc.zip
469 MB
Sep 30, 2017
NutandBolts(ButDon'tActually!)-mac.zip
454 MB
Sep 30, 2017
Get Underswap: Nuts in Bolts (Don't Actually)